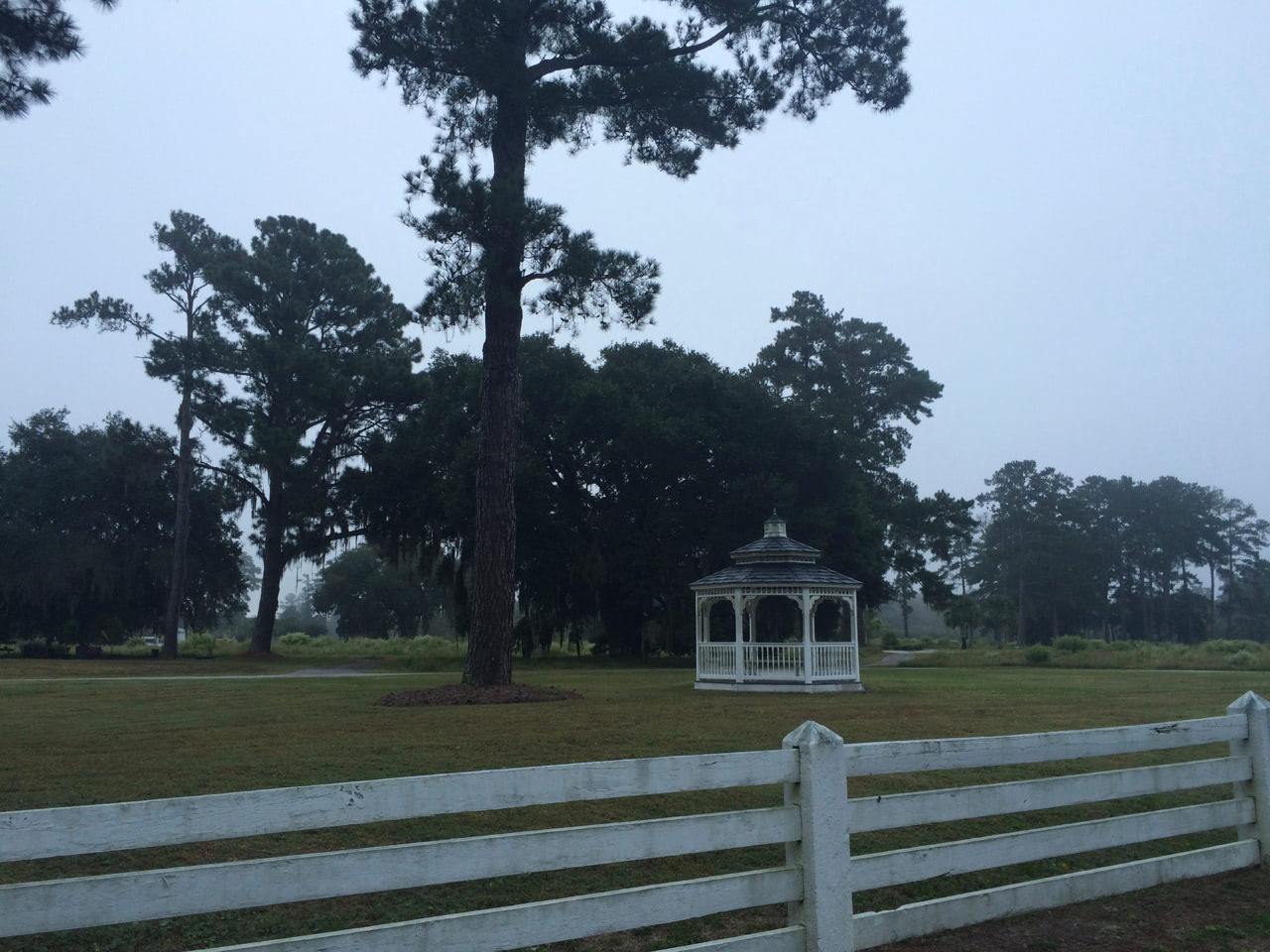 Time for another asterisk: I got a ride through the Francis Marion park so I'm now in Charleston. The mileage above is what I did on my own. But let me start at the beginning of the day.
A foggy mist hung over Georgetown this morning, almost making me doubt the safety of going down the roads. But the ECG route went 14 miles or so around 17 so I decided to take that. For the first three miles, the road was smooth and the skating was easy. But around 9:15 it started raining real hard. All the weather sources said that wouldn't happen until the afternoon! I was incredibly lucky to be close to a place that let me wait it out safe and dry.
Two twenty-somethings were running this combination gas station and bait shop. One had a heavy southern accent, the other none at all. I spent most of my time talking to the former, while the latter rung up the occasional customer. "You picked the most redneck town in South Carolina to come through. We don't like people who aren't from Georgetown, but you walked farther than I have so I can't hate." He went on to say that everyone in Georgetown is either working in the mill or "shrimpin' and crabbin'." The other guy piped up to say that a lot of bicyclists pass by their place even though it's way out of the way. I replied that I'm probably taking the same route as them. Blue skies emerged and I figured it was safe to continue so I thanked them both for their hospitality and was off.
From that point on, the roads were rough and wet. The rest of those 14 miles were tough enough, and then a second storm caught me off guard. I huddled under a grove of trees until it slowed, figuring I was losing a lot of time if I still had 25+ miles of national forest to get through.
I made it back to 17 and continued for a couple miles in light rain, crossing over the North and South Santee Rivers to enter the park. Coming down the bridge, a red sedan was pulled over with its windows down. The driver motioned for me to come talk to him.
With a couple expletives, he asked what I was doing and where I was going. I looked like I was in bad shape, soaking wet and covered in mud from my knees down. His name was Chad and he insisted on driving me to Charleston. What would have been two days of travel for me whipped by in less than an hour. Chad's a street performer from New Orleans who had driven a friend to Myrtle Beach and was on his way back. "But now is all that matters, so if I end up somewhere else, that's okay too." He had his whole life in the back seat, just in case. We talked about living simply and living happily, being content with what you do and what you have. He got off at the first exit in town and I bought him a beer. Then he was off to discover the city for himself. The next time I'm in Jackson Square, I'll look for Chad poppin and lockin — he expects me to.