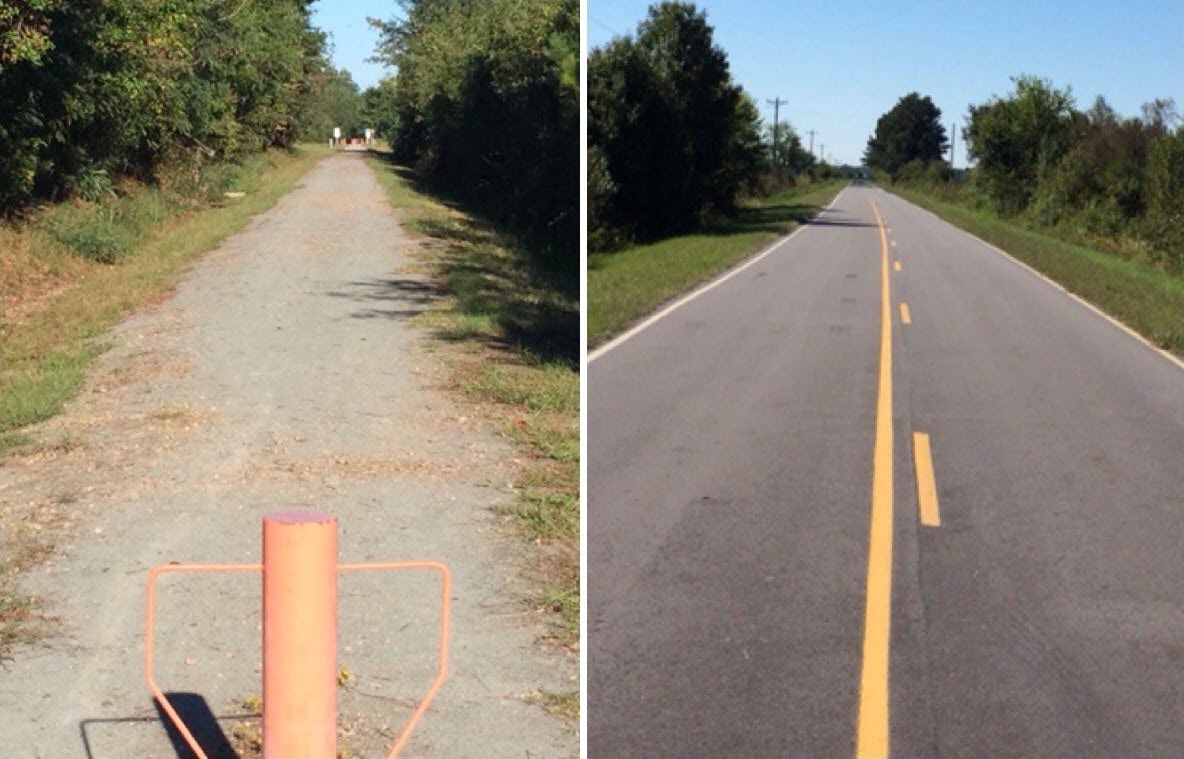 It got into the 40s last night and stayed there into the morning, so I set out at 8:45 instead of 8 to let the temperature rise a little. And then promptly got lost looking for the first "trail," which was actually the gravel bed of an old railroad track. After three u-turns, I found it and walked the 4.5 miles to start. It was surprisingly nice: not too cold, very quiet, and not strenuous in the least.
Then came the arduous skating on nice-to-okay roads for about 30 miles, including some serious uphills. Traffic was come and go, but decidedly less once the football games started at 1. I've taken to calling long, easy downhills "free miles" in my otherwise empty head, since I don't have to do anything to earn them. Today, those didn't come until I got to Fort Bragg. Freedom isn't free, or something like that.
Shortly after Fort Bragg, I stopped at a Food Lion for more supplies, and ate some of them right away for lunch. While still preparing for the trip, my friend Joe told me that being hungry can really affect your mood, making you think you're physically tired before you are. He was so right. After that food kicked in, I had a second wind and breezed through the next leg (including the Cape Fear Trail — "No skateboards allowed!") into downtown Fayetteville.
With that second wind in me, I decided to cut a few miles into tomorrow's route while it was still light out. Sorry Fayetteville, I'll hang out some other time. I've driven to you and back in a day, so you're really not that far (sigh).
One guy came out of a bar to complement my board. A couple blocks later, another guy did the same, and then some. He introduced himself as Greg, homeless and roaming the country. But he was pretty clean-cut and had a light pack. He asked if he could walk with me for a while, and (1) being an idiot (2) thinking he meant the couple blocks of downtown, I said yes. When we reached the end, Greg said not to go any farther because it was a bad part of town. I said I had the fire in me and was going to keep going. Greg launched into a routine I've heard a dozen times and asked for money for a bus ticket. I said no. He asked for money for his own skateboard. I said that sounded like a lot more money, so no. I gave him two granola bars and sped outta there. Nothing like the (maybe misguided) fear of a stranger to bring on that third wind.