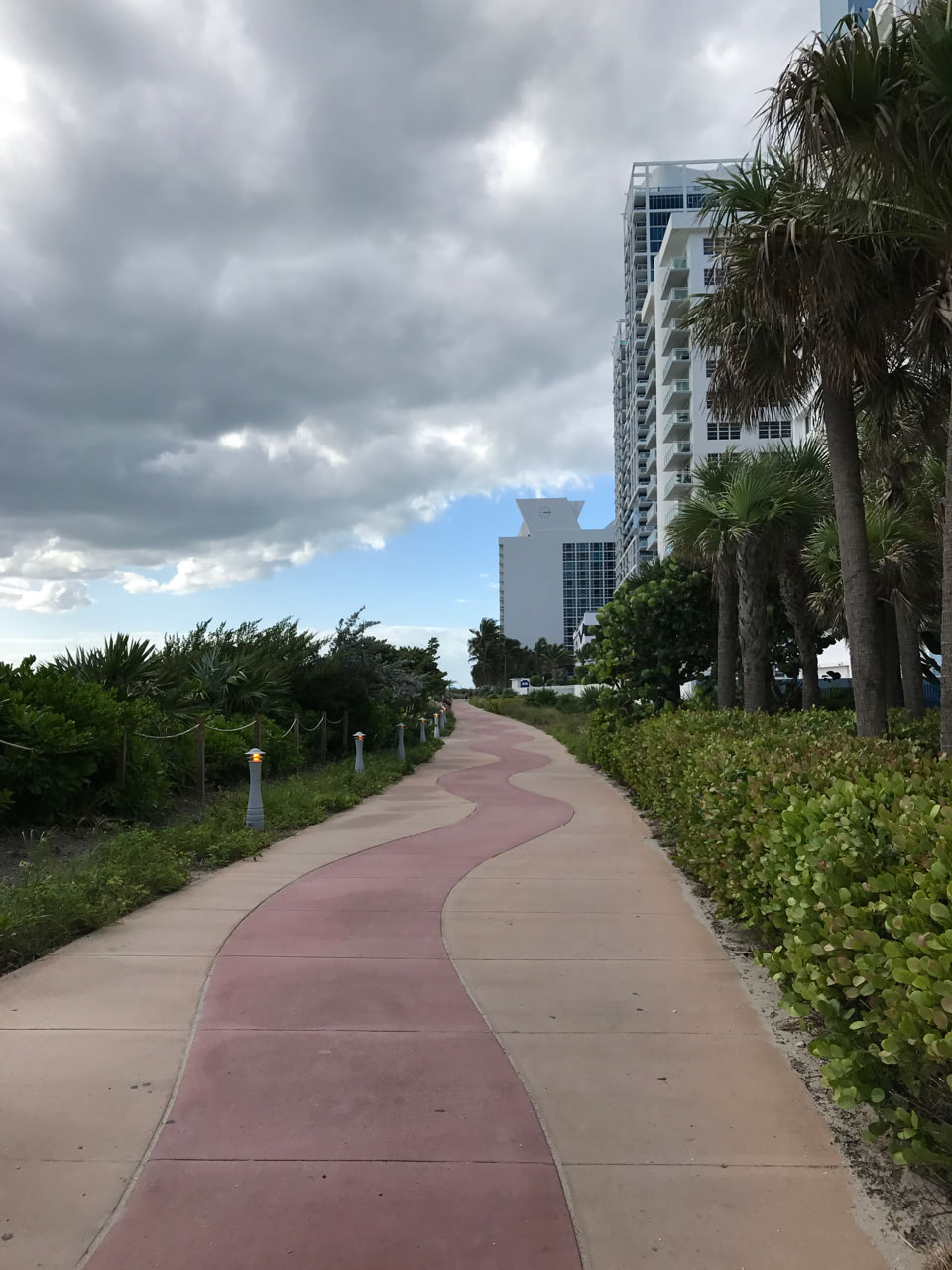 I went 12 miles beyond what I planned to today, thanks to some of the best skating conditions I've had on both trips. The sky was overcast most of the day, so the sun and heat weren't oppressive, and the last 17 miles were on a network of real, paved bike trails.
Before that, of course, I skated the shoulder of A1A coming out of Hollywood. Early in the morning, I heard a siren approaching behind me and couldn't figure out what to do for a couple seconds. Do I stop where I am, next to the curb? Can I maybe keep going (I'm small!)? I ended up hopping the curb onto the sidewalk. Between Hollywood and Miami was a short trail in Haulover Beach. There were probably a dozen stray cats lounging in the grass on the side, completely unfazed by the human traffic, and every so often a sign asking people to not abandon their pets at the beach. 😿
The late morning had me go through Miami Beach and then Miami proper. I didn't feel like stopping that early in the day, which led to me realizing that everyone else in Miami Beach is there to stay for a little while. I alternated between boardwalks, sidewalks, and the street, and everywhere there were people moving at a vacation pace. No one was pleased to have a stinky skateboarder hurry by.
After crossing into downtown Miami, I got lost. Who knew SE 4th street turns into SE 3rd street somewhere, instead of keeping its name the whole time? I stopped for lunch after I finally got out of the city. And after lunch and the second wind that comes with it, I spent the rest of the day on those trails. The first half was The Underline — as The High Line in Manhattan is a trail built on an old elevated railway, The Underline in Miami is a trail built under an active one. Pretty smart use of space. Maybe I should become a civil engineer for this very specific niche of bike- and skateboard-friendly urban trails, given how much they excite me.
Tonight's my last night on the mainland! Aiming for Key Largo tomorrow. The key preparation will be to queue more podcasts, which have really helped the miles pass the last two days.