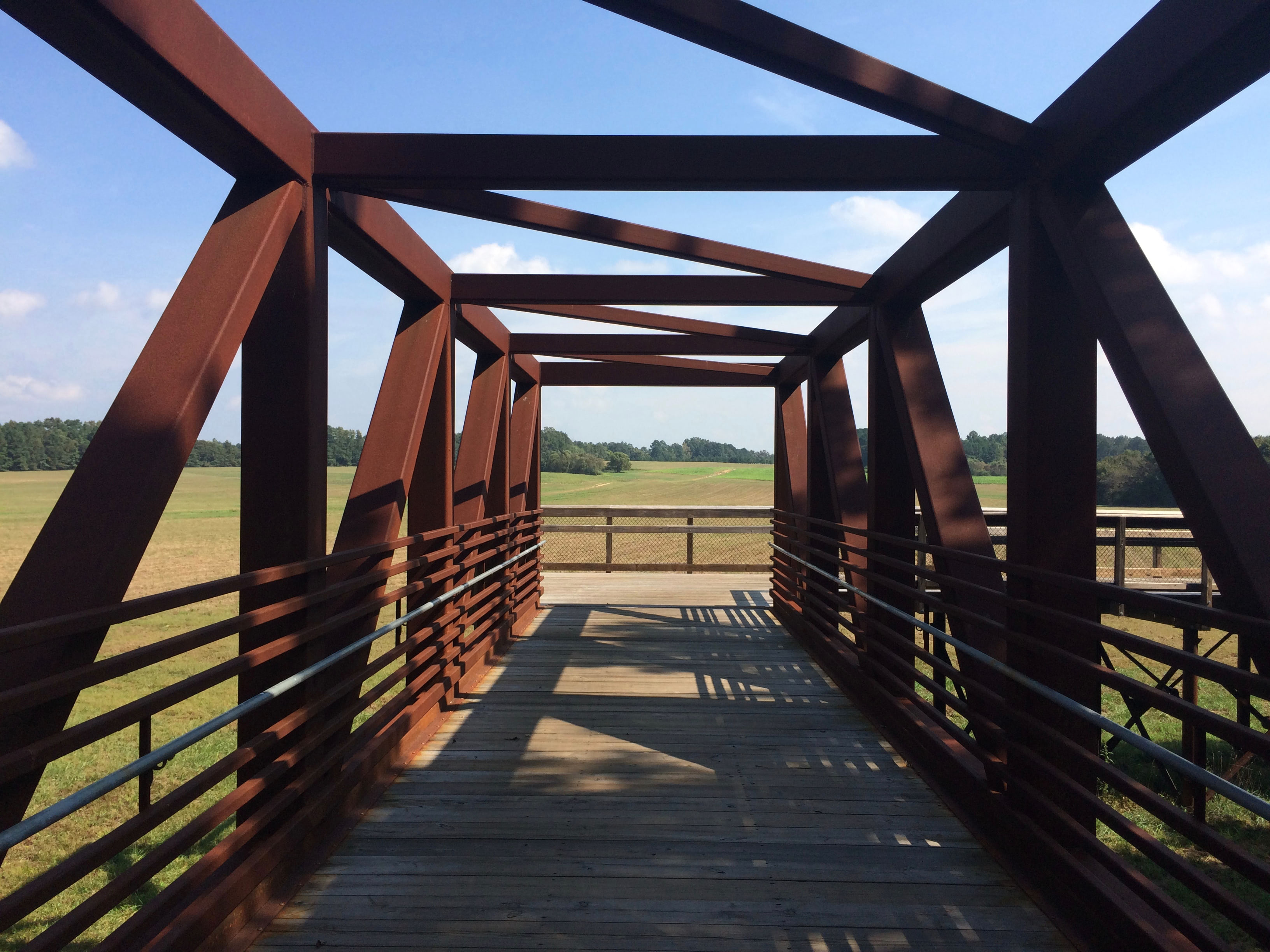 It felt really good to get back on the trail this morning. My neck and back were only slightly uncomfortable after the morning painkiller kicked in. Too bad downtown Raleigh was where my first of only two planned course deviations were, so I made three wrong turns early in the morning, following the official ECG route instead of taking a shortcut.
But once things were on their way, it became a great day. The highlight was the Neuse River Trail, which ran next to rolling farmland for many miles, separated by a picturesque white fence. It also meandered back and forth over its namesake river, one such time with the bridge in the top photo.
I kept on my hospital wristband to remind me to take downhills slower today. While they now frighten me a little more, my new public enemy #1 is headwinds. Combined with an uphill, they sap all energy.
Lots of dogs decided to bark at me today. Six would've chased me but were thankfully behind a fence. One was pooping on the side of the trail and didn't hear me coming. My sudden approach terrified him; he stopped mid-pinch and ran away.
Today's route was itself the second half of my initial first day route, and all the exciting things happened in the second half of today. I guided two EMTs to a cyclist that had fallen and landed on his head, shattering his helmet and maybe breaking some ribs. He was battered but going to be okay. Are these omens?
Part of the trail was closed for (de)construction of a bridge. All traffic had to make a hasty detour around big cranes and trucks. I met a nice couple going for their midday bike ride on the Sam's Branch trail near Clayton. After explaining my trip, the woman compared me to Forrest Gump — high praise!
The final two miles of this route were on the slim shoulder of a steep, uphill, 45mph road. I don't know what I was thinking putting that at the end of a long first day. My back and neck feel much better but probably not ready for a tent night on the ground, so I walked into another hotel at 2pm. Here's to a full night of rest, and getting through a full day of skateboarding tomorrow!